Joe Petersen

REALTOR

in Bismarck, ND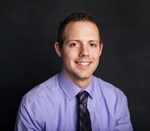 Professional Designations
REALTOR
As a professional real estate agent, I pride myself on offering superior personal service before, during and after your transaction. Knowledge, commitment, honesty, expertise and professionalism are the cornerstone of my business. Let me earn your trust, your business and most importantly your friendship. Don't make another move without me. I guarantee you will see the difference quality service makes.

Surprisingly, a Realtor hat is not the only hat I wear. I have been employed with the Bismarck Police Department since 2015, serving as a patrol officer and most recently as a traffic officer. I am a certified child car restraint system technician and attend many of the car seat check ups in the Bismarck-Mandan area.
I grew up in the small town of Chandler, MN and attended college in Alexandria, MN. Sadly, I did not step foot onto North Dakota soil until I was in college. Since moving to Bismarck, I have met my wife Morgan and somehow ended up with two very active American Labs! My wife Morgan and I have 2 wonderful children, Sophia and Noah.

I look forward to working with you!